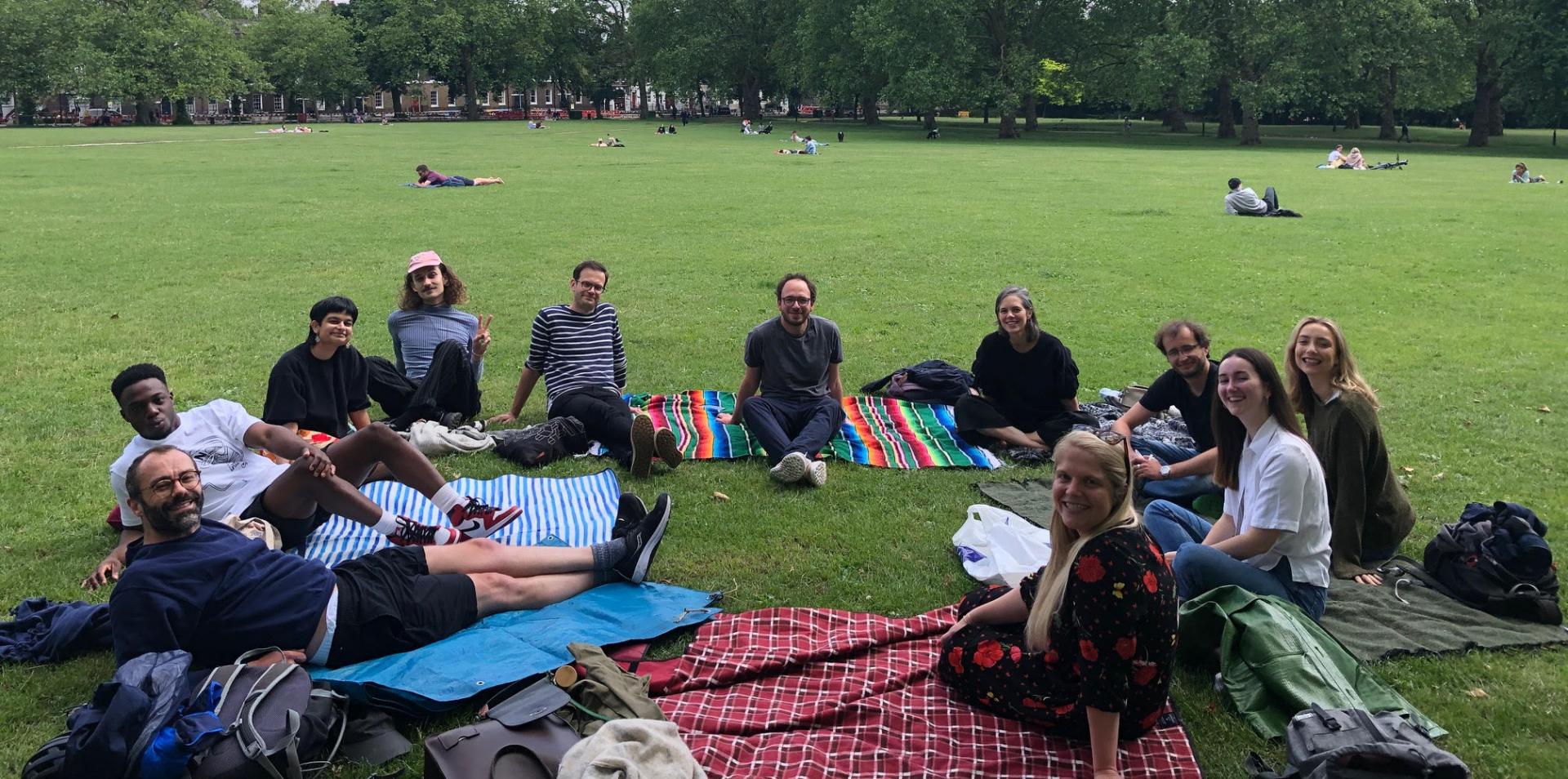 We're a team of strategic creatives and creative producers from the worlds of culture, tech, and advertising. Before landing at Flying Object, we plied our trade at places like Google, YouTube, Mother, Somethin' Else, the BBC and startups.
Adele Hambly
Studio Manager
Talk to Adele about anything operations and resource related, or ideas on what to cook for dinner.
Annie Flynn
Producer
Talk to Annie if you're an animator, or would like to make an animation or video.
Anthony Odu
Junior Designer
Talk to Anthony about design and motion graphics; or better yet, the art of chopping up samples from old vinyl records.
Catherine Howarth
Senior Copywriter
Talk to Catherine about brand tones of voice and ask for her latest book recommendation.
Charles Rickleton
Art Director
Talk to Charles if you want to know why design history is happening on facebook groups now.
George Bergel
Senior Producer
Talk to George if you're interested in finding a creative video solution to your brief, or looking for a decent pub.
Jade Harrison
Junior Producer
Talk to Jade if you'd like to join our network of talented freelancers, or you're searching for an obscure meme.
Jessica Jordan-Wrench
Experiential & Integrated Producer
Talk to Jess about making interesting things happen and where to walk a dog in Margate.
jessica@weareflyingobject.com
Peter Law
Head of Experiences & Experiential
Talk to Peter about Experiences or Experiential projects and finding nice people to do weird things.
Priya Mistry
Junior Designer
Ask Priya about speculative design projects and what's going on on TikTok.
Sebastian Koseda
Senior Designer
Talk to Sebastian about Graphic Design and the future of it.
seb@weareflyingobject.com
Tim Partridge
Co-Founder/Creative Director
Talk to Tim about video that works on the web, and the Brighton to London commuter line.
Tom Pursey
Co-Founder/Creative Director
Talk to Tom about new business, balancing parenthood and work, and Hey Duggee.
Zoë Beaty
Editorial
Talk to Zoë about anything editorial, press, or the all-consuming charm of Pepe Le King Prawn.
zoe@weareflyingobject.com
Sarah Ashley-Cantello
Head of Culture & Growth
Please visit our memorial page for Sarah to find out more and if you would like to donate to charity in her name.